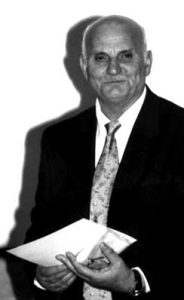 Born on May 24, 1937 in Nesalce-Bujanovac (Serbia), Gjyltekin Shehu is an educator before all else. Following his studies in Skopje (Macedonia), Zagreb (Croatia), and Paris, he obtained a doctorate in letters.
In 1985 he was named professor in French literature at the University of Prishtina, where he would continue to teach until the tragic events of Spring 1999, which he endured together with his family before seeking refuge in France.
With the assistance of Nevzat Bekteshi, one of his students, Shehu founded the Henry Dunant Shoqata (Association) of Kosovo in 1992. Through this organization he endeavoured to spread the Fundamental Principles of the International Movement of the Red Cross and the Red Crescent. Thanks to his roundtables, it was possible to maintain a place for reflection and the exchange of ideas, for example on "The Geneva Convention and Its Application" in Kosovo and Macedonia.
Through the course of visits to Germany and Sweden he also addressed immigrant workers, for whom he would often act as a mediator. A tireless traveller, he participated in several historical and scientific convocations, most notably those held by the Henry Dunant Society in Geneva, Paris, Cannes, Heiden, Culoz, and Solferino.
Before returning to his homeland, he took on further teaching duties. Obtaining the title of "ONG" for the Shoqata Henry Dunant, he also succeeded in convincing the municipal authorities in Pristhina to name a street after the Genevan philanthropist!
An fearless and unrelenting representative, professor Shehu completed Albanian translations of history of the Red Cross, as well as the fundamental text of the humanitarian movement, A Solferino Memoire, with the assistance of the CICR.
Mr. Shehu received the Prix Henry Dunant in 1999 for his tireless efforts in the study, spread, and communication of the ideas and missions of Henry Dunant in Kosovo and Macedonia.