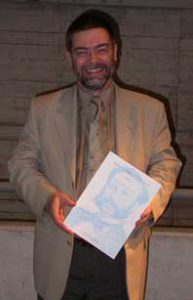 The Prix Henry Dunant Foundation awarded the 2003 Prix Henry Dunant to Fondation Hirondelle for its exceptional accomplishments in information management in crisis zones.
Fondation Hirondelle establishes radio and independent media in countries where war, totalitarianism, or extreme poverty make it almost impossible for such media to exist without outside support. The foundation works both on its own and with the partnership of the United Nations. Since its creation in 1995, Fondation Hirondelle has played a pioneering role in this field and still remains the only organisation entirely devoted to the creation and management of independent media in crisis zones. An international foundation under Swiss registry, Fondation Hirondelle is based in Geneva.
Fondation Hirondelle currently manages Radio Ndeke Luka in the Central African Republic and the bureau of information, documentation, and education in conjunction with the international court of Arusha. The organization co-manages Radio Okapi alongside the UN Mission In The Democratic Republic Of Congo. Representatives from the organization have been working with Radio Télévision Nationale de Timor during its gradual establishment following the independence of the country. Fondation Hirondelle created and managed Star Radio in Liberia, Blue Sky in Kosovo (currently integrated with Radio Television Kosovo), and Radio Agatashya for Rwanda, Burundi and Kivu.
Journalists from those countries where Fondational Hirondelle is active form the core of the organization's partners. They are often subjected to threats and considerable danger. The Prix Henry Dunant pays due credit to their courage and their efforts for a broad and non-partisan information network.

Fondation Hirondelle addresses tens of millions of listeners across the world. Its media generally cover the entirety of national territory in the country concerned. Some ten governments also contribute to the financing of the organization's projects.
Website: www.hirondelle.org
Prix Henry Dunant Award Ceremony 2003
The Prix Henry Dunant for 2003 was awarded on September 18 to Fondation Hirondelle, represented by Jean-Marie ETTER, at the Museum of the Red Cross in Geneva.