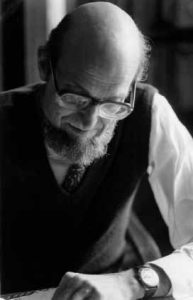 Born in Geneva on April 9, 1919, and deceased September 29, 2002, Gabriel Mützenberg held a career as an educator until facing a bout with tuberculosis in 1940. After this time he would go on to spend long periods of rest in the canton of Grisons, where he discovered the local language and culture.
Back in Geneva, he eventually became involved in journalism and he produces, among others, La Chronique des ondes, followed by Lettre des Grisons. In 1973 he was awarded a doctorate for his thesis dealing with 1830s Geneva.
He published numerous articles on Rhaeto-Romansch culture, the history of the Reformation, the Awakening of the 19th century, and pedagogical issues. An active member of several intellectual societies, he also participated in numerous conferences on historical matters.
He became a co-editor of the review Certitudes with his wife Denise Oberli, with whom he had two sons. From 1984 to 1999, he was active in the Evangelical Society- the very same one in which Henry Dunant held his Sunday School in the 1830s.
As a founding member of the Société Henry Dunant in 1975, he was a forever-tireless participant in the activities of the organization. He was also closely involved in the cataloguing of Henry Dunant's correspondence. He brought a fresh eye to "the family, the youth, and the spiritual destiny of the founder of the Red Cross" in a milestone work : Henry Dunant le prédestiné.
A relentless collaborator, a meticulous historian in sources and style, a bold conference leader, Gabriel Mützenberg personally devoted his time, skill, and generosity (particularly remarkable in light of his material circumstances) to the study and expansion of Henry Dunant's work. Most notably, he has made us aware that the Genevan philanthropist was driven by a deep spiritual fervor.
This is why he was chosen as the first recipient of the Prix Henry Dunant in 1995.